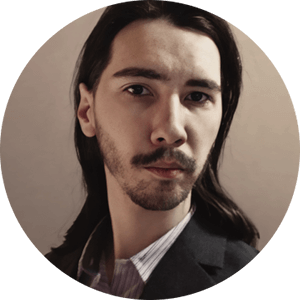 Timur Gafarov
Painter from Kazan, Russia.
Impressionism, postimpressionism, abstract art. Landscapes, portraits, still lifes.



Timur Gafarov (b. 1989) is a painter from Kazan, Russia. Graduated from the Kazan Art College named after Nikolai Feshin (2011) and the Moscow State Academic Art Institute (2017). Studied with famous Kazan masters and honored art workers, including Zufar Gimaev, Makhmut Vagapov, Grigory Eydinov, Ilnur Siraziev, Alexander Novikov, Farid Yakupov, Rustem Khuzin. At the MSAAI, studied in the studio of Alexei Sukhovetsky.
Timur was educated in the traditions of the Kazan impressionist school, which goes back to the style of Nikolai Feshin. Currently he works in various styles, including impressionism, post-impressionism, cezannism, cubism, abstract art. His favorite genres are landscape and still life.
In his works he tries to express the spirit of his time, to capture the appearance of the outgoing and new Kazan in a free painting technique, relying on the modernistic masters, using the experience and theoretical foundations of the XIX-XX centuries European art. He takes inspiration from Paul Cézanne, Vincent van Gogh, Giorgio Morandi and Laurence S. Lowry.